As many of us remain at home during this time of the novel coronavirus, having a functional and stylish office space is a must. Whether you have a separate office you are looking to remodel, or are reconfiguring common spaces in your home such as your kitchen or living room into a temporary office space, incorporating your signature style can bring comfort and joy. Here, luxury home builder & remodeler at Delbert Adams Construction Group showcase innovative office spaces seen in our Blueprint Bulletin newsletter, providing inspiration for potential remodels during this time.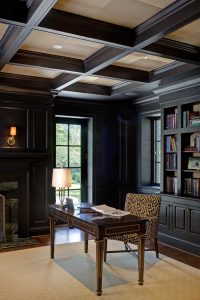 Dreamy Office Spaces Perfect for Work-From-Home Days
Here are a few office spaces we have been loving lately. Whether tucked into a nook or a separate room in the home, these office spaces all serve their purpose. The custom built-in bookshelf in this first office provides ample room to store any reading you may need, and the floor-to-ceiling windows add stunning natural light to keep you working hard throughout the day. Take a break from your busy days and enjoy nature from your air-conditioned office, or use a bookshelf to store all of your favorite summer novels for a relaxing end to the workday. Whatever field you are in, having a quiet and functional workspace in your home is a must during this time.
These office spaces are built with expert craftsmanship and design. The office below exudes simplicity and elegance, showcasing light wood custom cabinets with a built-in desk area, perfect for planning, organizing and any Zoom meeting you might have. Each project completed by DACG is unique to your style and needs, and we work to bring your dream home to life. While an office space may not have been on the top of your list for your home remodel, these work-from-home days sure are having us dreaming of a luxury workspace for our daily meetings. Taking the leap into your next home remodel might be the perfect project to spark creativity and help you find joy in making your house a home.

See How DACG Can Help You Build Your Dream Office Space
Delbert Adams Construction Group is one of Baltimore's top luxury home contractors. With an experienced, knowledgeable and confident team, DACG is here to help bring your vision to life. As so many of us remain at home day in and day out, we are likely to pay more attention to the areas of our home that could use a little TLC.
Whether you are looking for a full home remodel, or would just like to spruce up an outdated room, DACG is here for you.  We can help you bring your vision to fruition through detailing planning, management and execution of your remodel project. With over 25 years of experience, our team at DACG is here to make your dream a reality. Let us know what you have been dreaming about for your home by contacting us today to start your next home remodel project.