Baltimore, MD (September 29, 2017) – Giving back to the community has always been a high priority for the Delbert Adams Construction Group (DACG). This week, DACG passed over the key to a new welcome booth to the folks at the Helping Up Mission. This booth is a parking lot icon and functions to welcome visitors.
The key ceremony featured the men who will work in the Welcome Booth, the Executive Director of the Helping Up Mission, Robert K. Gehman, and a few of the DACG folks.
Over the past few months, the DACG team spent time planning, constructing and building a brand new welcome booth for the Helping Up Mission (HUM) in Baltimore, MD. A special thanks goes out to the vendors who made the completion of the booth a wonderful success including, The Reisterstown Lumber Company, TWPerry, The Home Depot, Budeke Paints, Lewis Brothers, Inc., Architectural Window Supply, Carpet Fair, MS Moeller, FastSigns, Aire-craft Heating & Cooling and Starr Systems Design.
Helping Up Mission is an amazing organization that offers a community of hope to men who are fighting addiction and homelessness. Their comprehensive recovery programs are designed to help the men overcome these struggles and become sober, responsible members of society.
At any given time, there are 500 men on the HUM campus in various stages of recovery. With a volume this high, the staff quickly discovered the need for a welcome booth to assist with maintaining oversight of those coming and leaving the facility. That is where DACG stepped in to offer their volunteer services and help get this project complete.
"The DACG team is honored to help fulfill a need for such a wonderful organization who deserves the support from the surrounding Baltimore community. Giving back is a high priority for our team and it's always a plus when we get to build something in the process."  Says DACG co-owner, Taylor Classen.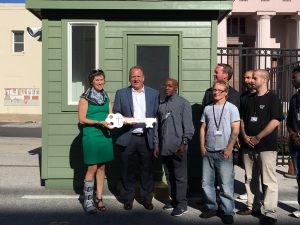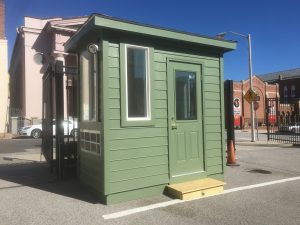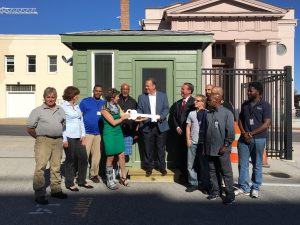 To find out more about how you can get involved with Helping Up Mission, click here.
_________________________________________
DACG Contact: Gina Adams, gadams@dacgllc.com.
To contact Helping Up Mission please call (410) 675-4357.