At Delbert Adams Construction Group, our Baltimore-based luxury home designers provide custom, high quality design solutions for those all across Charm City. With unparalleled attention to detail and a collaborative and innovative approach to every project we take on, DACG is here to bring your vision come to life. Whatever style you dream of, DACG is ready to design a home that will last a lifetime. DACG was lucky enough to be mentioned in a recent issue of Architectural Digest, seen below.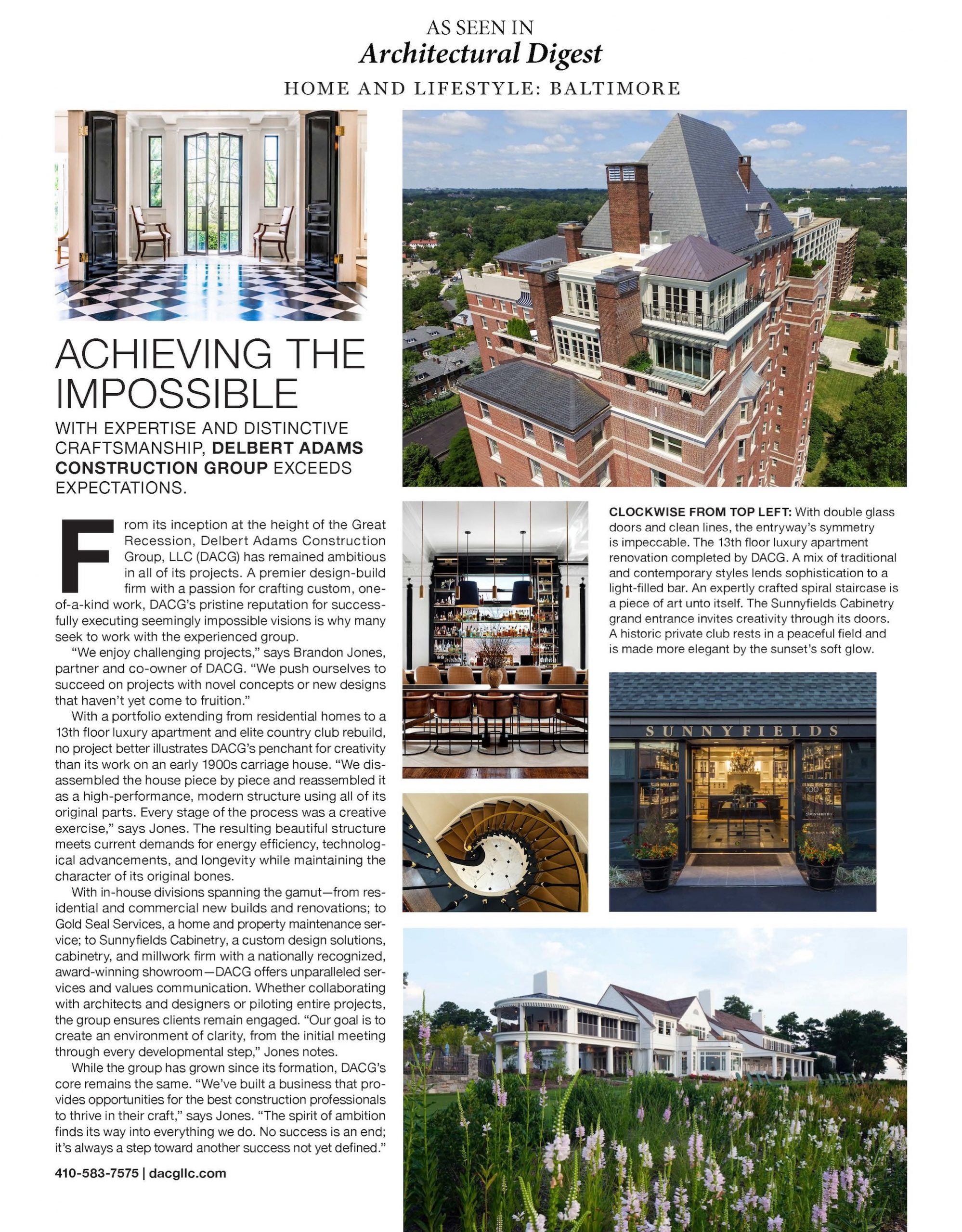 Delbert Adams is Achieving the Impossible in Architectural Digest Mention
At Delbert Adams Construction Group, we seek to achieve the impossible. From residential to commercial projects across Maryland, our team is here to bring your vision to life, whatever that may be. With a team of qualified home construction experts and a passion for one-of-a-kind design, DACG strives to create luxurious homes that are sure to wow. In our recent Architectural Digest mention, Brandon Jones, partner and co-owner of DACG, sums up our mission perfectly. "Our goal is to create an environment of clarity, from the initial meeting through every developmental step," says Brandon. "The spirit of ambition finds its way into everything we do. No success is an end; it's always a step toward another success not yet defined."
At DACG, we work tirelessly to foster comprehensive business offerings for your residential or commercial project. We know that no project is done right away, and understand that you want to keep your home in pristine condition. That is why, our Gold Seal Services are a perfect addition to your home remodel, providing seasonal maintenance to keep your home in tip-top shape.  To learn how Delbert Adams Construction Group can assist you in your next Maryland-based remodel, contact our Baltimore office today, and view some of our favorite projects below.
This article was originally created for our weekly communications, called The Blueprint Bulletin, in which we share some inspirational content about building your life, one space at a time. If you would like to be included on our distribution list, you can sign up here.